Sell Without Moving: Maximize Your San Francisco Home Sale
To sell your home in the San Francisco Bay Area can feel like a daunting task, especially when the conventional SF Realtor wisdom suggests that you can't get top dollar if you sell without moving out and staging your property first. But what if we told you that's not the only way? In fact, there's still plenty you can do to increase your San Francisco home sale profits without the hassle of first relocating and professionally staging.
In this blog post, we'll share a few key things we recommend as top San Francisco Realtors to increase your return on investment when you sell your home without moving out and staging it first.
Your Source for SF Real Estate Insights
First, a quick note on why SF home sellers trust our team. With over two decades of experience in the San Francisco real estate market, we've had the privilege of assisting almost 1,000 of our SF Bay Area neighbors in selling and buying properties. We know firsthand that there's more than one way to achieve a successful and efficient home sale.
In this guide, we'll share five of our top SF Realtor tips that focus on the essentials: setting the right price, making the most of what you already have, and leveraging our extensive network and negotiation skills. So, if you're looking to sell your home without the added stress of moving out for staging and other preparations, you're in the right place. Let's dive in!
Tip 1: Price it Right
You've probably heard the saying, "The three most important things in real estate are location, location, location." While that's true, there's another trio that's equally crucial when selling your home in the San Francisco Bay Area: price, presentation, and buyers' expectations. Over the past 25 years, the trend of moving out and professionally staging a property has become almost a given in San Francisco. But let's set the record straight: it's not a requirement for a successful, rewarding closing on your home sale. You can sell without moving and staging, efficiently and effectively. The first step? A strategic listing price.
The Power of Smart and Strategic Pricing
Your listing price is more than just a number; it's your most powerful marketing tool. Think about it. Price your home too high, and it becomes invisible to the very buyers who might be a perfect fit. On the flip side, a low price can attract more eyes but must be set with a deep understanding of the market to avoid undervaluing your property.
The key here is setting a smart and strategic listing price based on accurate market information and comparable sales. This strategy involves not only presenting your home in the best light to open house guests but also making it shine online through photos, videos, and floor plans. In today's digital age, your online presence is just as important as your curb appeal. We want your listing to meet the expectations of active buyers for the listing price that we set.
But how do you arrive at this magical number? It's about having a finger on the pulse of the market. Local market trends, comparable sales, and even the time of year can all influence what buyers are willing to pay. As full-time San Francisco Realtors since 2002, we can confidently say that understanding these factors is crucial for setting a price that meets your goals while also being attractive to potential buyers. This goes for whether you will sell without moving and staging first, or if you do "the works."
And let's not forget, the listing price also sets the stage for negotiations. A well-thought-out price can give you the upper hand when it comes to those final discussions that determine your home's selling price. (More on that later!)
Tip 2: Staging in Place
Remember the "shelter in place" orders during the pandemic? Well, "staging in place" is a lot more fun, we promise. The idea here is simple: you don't have to move out to make your home look its best. In fact, you can use what you already have to create a space that not only appeals to you but also to potential buyers, even when you sell your home without moving out and staging first.
Make the Most of What You Have
Start by taking a good look around your home. What are its best features? Maybe it's the natural light pouring in through large windows, or perhaps it's a cozy fireplace. Once you've identified these key elements, work on accentuating them. A well-placed mirror can make a room look bigger, while the right lighting can create a warm and inviting atmosphere.
Next, channel your inner Marie Kondo and declutter. Less is often more when it comes to staging. This can be difficult to do when you sell without moving or staging first—we all lack a certain perspective on our own selves and belongings—but it's a key part of the process. Remove any personal items like family photos or knick-knacks. The goal is to help potential buyers visualize themselves in the space, and that's easier to do when it's not filled with personal mementos.
If you're feeling a bit overwhelmed, consider a professional staging consultation. They can provide expert advice tailored to your home's unique features. And hey, we've been doing this for a while too, so we're always here to offer our own insights on how to make your home shine. That's part of the value we bring as your San Francisco listing agent.
To sum it up: staging in place is all about optimizing what you already have. With a little creativity and some strategic rearranging, you can make your home look like a million bucks without spending a fortune.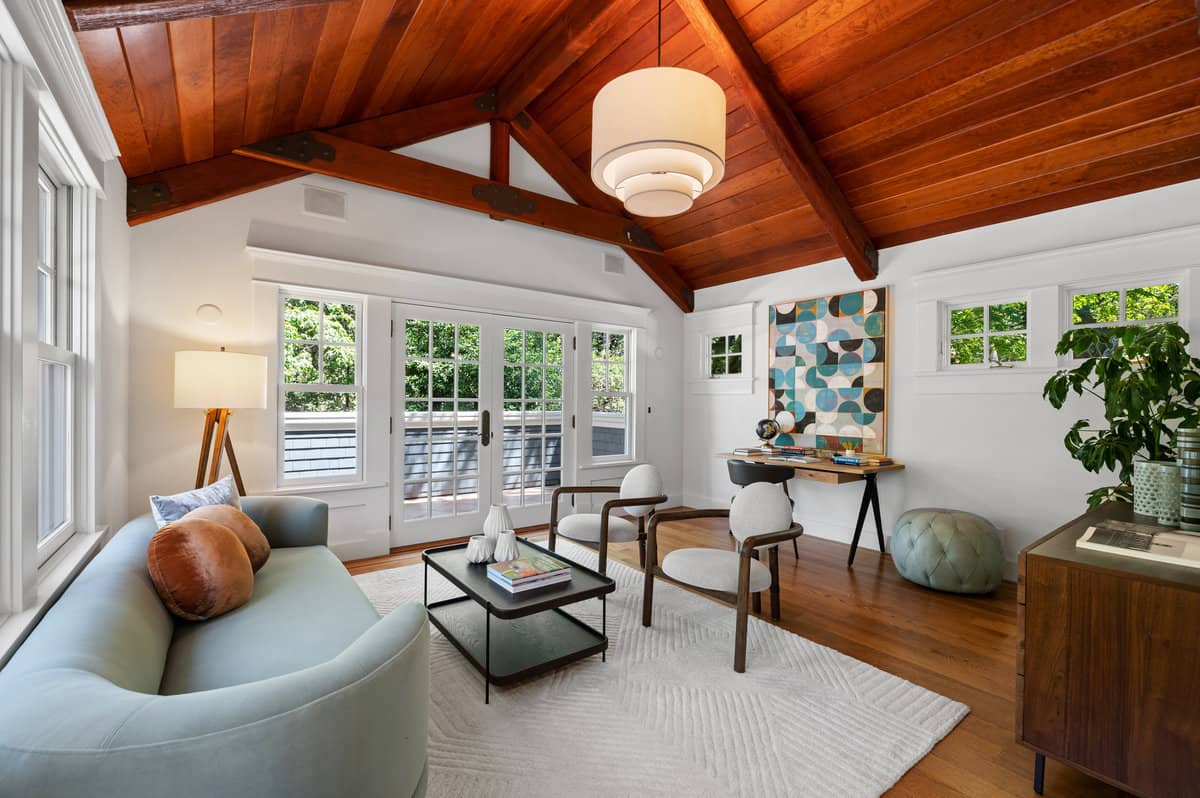 Tip 3: Play the Hits
You don't have to go all out with a full home makeover to make an impact. The key is to focus your energy and funds on the tried-and-true factors that get the most bang for your buck.
The Essentials: Paint, Floors, Lighting, and Outdoor Areas
Start with the basics. A fresh coat of paint can work wonders for your home's appeal. Choose neutral colors that can act as a blank canvas for potential buyers. (These days, "greige" is al lthe rage—but you can't go wrong with white. Tried and true, remember?) Next, take a look at your floors. Are they in good condition? A little polishing or even a professional cleaning can make them look brand new.
Lighting is another area where small changes can make a big difference. Swap out any dated fixtures for something more modern. Consider adding floor or table lamps to brighten up darker areas of your home.
If you're considering to sell without moving or professionally staging your San Francisco home, don't forget about your outdoor living areas. A well-maintained garden or even a few potted plants can add significant curb appeal. If you have a patio, make it look inviting with some outdoor furniture or even just a couple of chairs and a small table.
Focus on High-Impact Areas
Kitchens and bathrooms are often the first places potential buyers look. You don't need a full remodel to impress. Even small updates like new cabinet handles or a modern faucet can make these spaces more appealing.
In essence, "playing the hits" means focusing on what really matters. You don't need to break the bank or start tearing out fixtures preparing your home for sale. A few smart, targeted updates can go a long way in making your home more marketable, without the need for a complete overhaul.
Tip 4: Curb Appeal Matters
First impressions are everything, especially when it comes to selling your home. Potential buyers often make snap judgments based on what they see from the street. So, how can you make sure your home stands out for all the right reasons?
Enhance Your Home's Exterior
Start with the basics: a well-maintained lawn, clean walkways, and a tidy front porch can go a long way. If your front door looks a bit worn, consider giving it a fresh coat of paint in a color that complements your home's exterior. Even small touches like a new doormat or updated house numbers can make a difference.
Don't Forget the Details
Pay attention to the smaller elements as well. Are your gutters clean? Are there any missing or broken fence slats that need replacing? These might seem like minor details, but they can be distracting to potential buyers and give the impression that the home isn't well-maintained.
Curb appeal is more than a buzzword. It's an essential part of presenting your home in the best possible light. And the best part? Most of these updates are quick and cost-effective, either something you can DIY or have a handyman or landscaper fix in a day, meaning you can boost your home's exterior appeal without breaking the bank (or your back).
Tip 5: Network and Negotiations
Last but certainly not least, let's talk about the people who can make or break your home sale: your San Francisco listing agent, their network of real estate professionals and negotiation skills.
Leverage Your Realtor's Network
As your SF real estate consultant and marketing team, it's our job to make sure your property gets the visibility it deserves. Did you know that the top 10% of agents sell 90% of homes? For a "big city" SF often feels like a "small town"—especially when it comes to the movers and shakers in real estate.
Along with other top Realtors in the SF Bay Area, we're part of the Top Agent Network where we broadcast your listing, along with details and showing information, to ensure your home is seen by the right people at the right time. (Learn more about the Top Agent Network on our page for San Francisco home sellers.)
The Importance of Negotiation Skills
Negotiations are where the rubber meets the road in real estate. Every home is unique, and you can't sell the same home twice at the same time (unless you're one of those Craigslist con artists, but we don't recommend that route). However, having sold over $1 billion of real estate in the SF Bay Area, we can say with absolutely certainty that the quality of your agent's negotiation skills can significantly influence your closing price, sometimes by up to 10% or more in either direction.
So, what does this mean for you? It means that a skilled negotiator can help you navigate the complexities of offers, counteroffers, and contingencies, ensuring that you get the best possible deal and don't leave any money on the table.
In other words, while the physical/visible aspects of your home are crucial, the people and their skills behind the scenes are just as important. A strong network and adept negotiation skills can be the final pieces of the puzzle, helping you maximize your home sale without the need for moving and staging.
Achieve a Top-Dollar Home Sale in San Francisco Without Moving Out and Staging
Selling your home in San Francisco is a big decision, and it's natural to feel overwhelmed by the process. But remember, you don't have to go it alone or follow a one-size-fits-all approach. Whether it's setting the right price, "staging in place," or leveraging a strong network, there are multiple paths to a successful home sale in the San Francisco Bay Area.
We're here to help you navigate them. If you have questions or would like to discuss your personal situation and goals, reach out with a call, text or email. Click here to contact us. We'd love to explore how we can collaborate to help you achieve your real estate dreams.
Stay Connected
Don't miss out on valuable San Francisco real estate insights and local happenings! Sign up for our Vivre Real Estate email newsletter. We value your privacy and never share your information. No spam, no games, only the good stuff—get our latest perspectives on SF Bay Area real estate, curated articles and stories, plus events and culture around town, delivered free and straight to your inbox. Take care and talk soon!